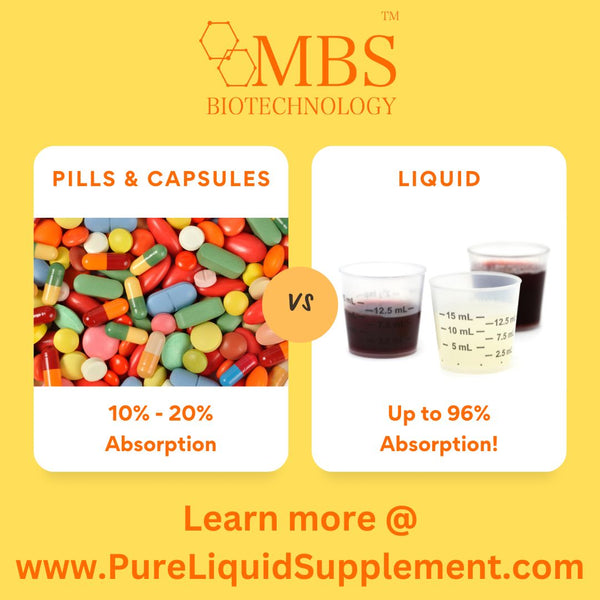 Liquid versus Capsules and Gummies: Why are liquid supplements better?
Enhanced Absorption: Liquid supplements are often easier for the body to absorb compared to capsules or gummies. The liquid form allows for quicker and more efficient absorption of nutrients into the bloodstream, bypassing the need for breakdown and digestion.
Faster Action: Liquid supplements can provide faster results due to their quicker absorption. The nutrients in liquid form are readily available for the body to utilize, potentially leading to more immediate effects.
Customizable Dosage: Liquid supplements often allow for more precise dosage control. You can easily adjust the amount of liquid taken to meet specific dosage requirements or tailor it to your individual needs.
Convenience and Ease of Administration: Liquid supplements are typically easier to swallow, making them a preferred option for individuals who struggle with swallowing capsules or tablets. They can be easily mixed with water, juice, or other beverages, making them more convenient to consume, especially for those with dietary restrictions or preferences.
Versatility in Application: Liquid supplements can be used in various ways. They can be added to smoothies, shakes, or other recipes, offering flexibility in incorporating them into your daily routine. This versatility can be particularly beneficial for individuals who prefer alternative methods of intake or have difficulty taking solid forms of supplements.
Ideal for Certain Populations: Liquid supplements may be particularly beneficial for children, older adults, or individuals with compromised digestive systems who may have difficulty swallowing or digesting solid forms of supplements. The liquid form provides a more accessible and gentle option for these populations.