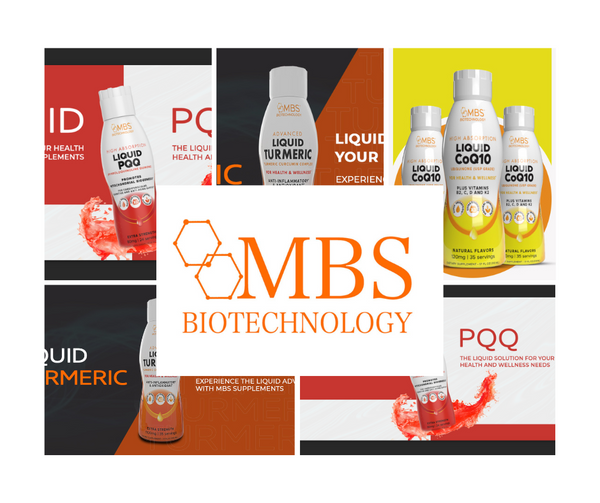 MBS Biotechnology: Unraveling the Future of Medicine and Healthcare through Liquid Supplements
In an ever-evolving world of health and wellness, MBS Biotechnology stands at the forefront of innovation, passionately committed to improving your overall health and well-being. With an unwavering focus on quality and efficacy, MBS Biotechnology is revolutionizing the future of medicine and healthcare by harnessing the power of liquid supplements to deliver maximum health benefits. Let's explore how MBS Biotechnology's groundbreaking liquid supplements, including Liquid CoQ10, Liquid PQQ, and Liquid Turmeric, are shaping the future of medicine and healthcare.
A Passion for Liquid Supplements: The MBS Biotechnology Advantage
At the heart of MBS Biotechnology's mission is the belief that liquid supplements offer unparalleled advantages over traditional pill-based counterparts. The company's state-of-the-art manufacturing facility in Chandler, Arizona, produces liquid supplements designed for optimal absorption, ensuring that the nutrients in each product are delivered efficiently and effectively to the body. This innovative approach to supplement delivery is driven by MBS Biotechnology's passion for helping individuals achieve a healthier, more vibrant life.
Liquid CoQ10: Boosting Cellular Health and Antioxidant Protection
Coenzyme Q10 (CoQ10) is a powerful antioxidant that plays a crucial role in cellular energy production and DNA protection. MBS Biotechnology's Liquid CoQ10 supplement offers a highly absorbable solution for enhancing heart function, increasing ATP production, and limiting oxidative damage. This groundbreaking liquid formula allows for unparalleled bioavailability, ensuring that each dose delivers maximum health benefits for improved cell DNA and survival, paving the way for advancements in heart health and potentially preventing cancer recurrence.
Liquid PQQ: Supercharging Cognitive Function and Mitochondrial Biogenesis
MBS Biotechnology's Liquid PQQ, the world's first highly absorbable liquid Pyrroloquinoline Quinone supplement, is changing the game in cognitive function and heart health. Supporting both brain and heart health, this revolutionary supplement promotes mitochondrial biogenesis, the process by which new mitochondria are formed within cells. By providing an easily adjustable dosage, Liquid PQQ allows users to tailor their intake for optimal results, empowering them to take control of their health and well-being.
Liquid Turmeric: Unleashing the Power of Curcumin for Whole-Body Health
Turmeric, a widely recognized anti-inflammatory and antioxidant powerhouse, has been used for centuries to support health and well-being. MBS Biotechnology's Liquid Turmeric features a high-potency 1100mg Turmeric Curcumin Complex with BioPerine, which accelerates nutrient absorption and enhances the bioavailability of various supplement nutrients. This potent formula harnesses turmeric's myriad health benefits, making it an essential addition to any wellness routine.
The Science Behind MBS Biotechnology

MBS Biotechnology takes pride in its state-of-the-art manufacturing facility located in Chandler, Arizona. Adhering to the strictest guidelines of Good Manufacturing Practices (GMP), the company ensures that every product is pure, potent, and effective.
MBS Biotechnology's rigorous scientific approach to supplement production is evident in every aspect of their manufacturing process. The company employs a team of highly skilled researchers and scientists who work tirelessly to develop innovative, cutting-edge liquid supplements that deliver real results.

MBS Biotechnology's commitment to quality extends beyond the laboratory. MBS Biotechnology's commitment to transparency and education is evident in its in-depth product descriptions and informative blog, both of which provide valuable insights into the science behind each supplement and how it can benefit overall health and well-being.

MBS Biotechnology is revolutionizing the future of medicine and healthcare through its innovative liquid supplements. With a passion for quality and a commitment to scientific research, the company is dedicated to improving the lives of individuals everywhere. Whether you're looking to boost cellular health, supercharge cognitive function, or unleash the power of turmeric for whole-body health, MBS Biotechnology has the perfect supplement for you. So why wait? Start your journey to better health and wellness today with MBS Biotechnology.