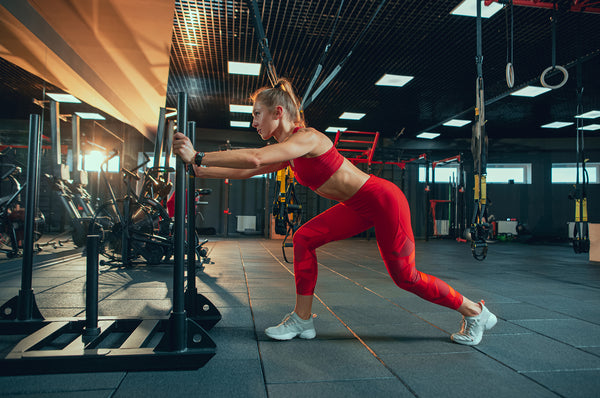 Unlocking Athletic Performance: The Role of PQQ
In the world of sports and fitness, athletes are constantly seeking innovative ways to gain a competitive edge. Whether it's shaving milliseconds off a sprint time or recovering faster between intense workouts, the pursuit of peak performance is unending. One supplement that has garnered attention in recent years for its potential to enhance athletic performance is Pyrroloquinoline Quinone, or PQQ. In this blog, we'll explore the science behind PQQ and how it may benefit athletes and fitness enthusiasts on their journey to excellence.

Understanding PQQ: A Cellular Dynamo

Before delving into its athletic benefits, let's get to know PQQ a bit better. Pyrroloquinoline Quinone is a naturally occurring compound found in certain foods like soybeans, spinach, and green tea. It's classified as a redox cofactor, meaning it plays a vital role in the transfer of electrons in cellular reactions. Most importantly, PQQ is a key player in the growth and health of mitochondria, the tiny powerhouses within our cells responsible for energy production.

Mitochondria are critical for athletic performance. They convert nutrients into adenosine triphosphate (ATP), the primary energy currency of our cells. The more efficiently mitochondria function, the more energy an athlete has at their disposal. This is where PQQ comes into play.

PQQ and Mitochondrial Biogenesis

One of the remarkable abilities of PQQ is its role in mitochondrial biogenesis, the process by which new mitochondria are formed within cells. As we engage in physical activity, our existing mitochondria work tirelessly to provide the energy needed for muscle contractions, endurance, and recovery. Over time, these mitochondria may become damaged or less efficient, hindering overall athletic performance.

This is where PQQ's magic happens. Research has shown that PQQ can stimulate mitochondrial biogenesis, effectively encouraging the growth of new and healthy mitochondria. This boost in mitochondrial density equates to increased energy production, potentially leading to improved endurance, quicker recovery, and enhanced overall performance.

PQQ and Enhanced Endurance

Endurance is a key component of many sports, from marathon running to cycling and swimming. Athletes often push their bodies to the limit, requiring a steady and reliable energy supply. PQQ may offer a unique advantage in this regard.

Studies involving animal models have suggested that PQQ supplementation can increase endurance levels. The enhanced mitochondrial function resulting from PQQ may translate to improved stamina, enabling athletes to train longer and perform better in endurance-based sports.

Muscle Recovery and PQQ

Intense physical activity inevitably leads to muscle damage, especially during strength training and high-intensity workouts. Proper recovery is crucial for athletes to rebuild and strengthen their muscles. PQQ's ability to support mitochondrial health may aid in this process.

Mitochondria are also responsible for repairing damaged cells. By promoting mitochondrial biogenesis and efficiency, PQQ may accelerate the recovery of muscle tissue. This means less downtime between workouts and a reduced risk of overuse injuries.

Cognitive Benefits of PQQ

Athletic performance isn't solely about physical prowess; mental acuity plays a significant role as well. PQQ may have cognitive benefits that can give athletes a mental edge. Some studies suggest that PQQ could enhance attention, focus, and memory – all essential for staying sharp during training and competition.

Incorporating PQQ into Your Routine

If you're considering adding PQQ to your supplement regimen, it's essential to do so wisely. Start by consulting with a healthcare professional, especially if you have any underlying health conditions or are taking medications. They can provide personalized guidance on the appropriate dosage and usage.

PQQ supplements are available in various forms, including capsules, tablets, and liquids. Liquid PQQ is particularly appealing to athletes and fitness enthusiasts due to its potentially faster absorption rate. This rapid absorption may ensure that PQQ gets to work quickly, optimizing mitochondrial function and energy production.

When incorporating PQQ into your routine, consider these tips:

Dosage: Follow the recommended dosage provided on the product label or as advised by your healthcare professional. Typically, doses ranging from 10 to 20 mg per day are considered safe and effective.

Timing: Some athletes prefer to take PQQ before their workouts to maximize energy levels and endurance. Others find benefit in post-workout supplementation to aid in muscle recovery. Experiment with timing to see what works best for you.

Consistency: To experience the full potential of PQQ's benefits, it's essential to take it consistently over time. Results may not be immediate, but with regular use, you may notice improvements in your athletic performance.

Stacking: PQQ can be combined with other supplements that support athletic performance, such as Coenzyme Q10 (CoQ10) and creatine. However, always consult with a healthcare professional before starting any new supplement regimen.

The Bottom Line

PQQ's role in enhancing mitochondrial health and function has garnered the attention of athletes and fitness enthusiasts looking for that extra edge. While research on PQQ's athletic benefits is ongoing, the existing evidence suggests that it may lead to improved endurance, quicker recovery, and enhanced cognitive function – all of which are invaluable in the world of sports and fitness.

If you're considering PQQ as a supplement to support your athletic goals, be sure to do your research, consult with a healthcare professional, and select a high-quality product that fits your needs. With the right approach, PQQ may help you unlock new levels of performance and achieve your fitness aspirations.