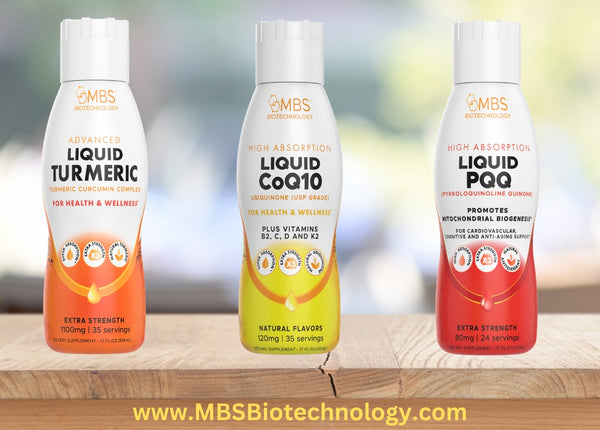 Unlocking the Power of Liquid Supplements: Turmeric, CoQ10, and PQQ Explained
In a world that's constantly on the move, maintaining optimal health can be a challenge. Our daily routines often leave us with little time for self-care. That's where liquid supplements come into play. Liquid supplements offer a convenient and effective way to boost your well-being without the hassle of pills or capsules. In this comprehensive guide, we'll explore the remarkable benefits of three liquid supplements: Turmeric, Coenzyme Q10 (CoQ10), and Pyrroloquinoline Quinone (PQQ). These liquid elixirs are transforming the health and wellness landscape, and it's time to unlock their potential.
Chapter 1: Liquid Turmeric – Nature's Golden Elixir

The Origins of Turmeric

Our journey begins with turmeric, often referred to as "nature's golden spice." Turmeric, scientifically known as Curcuma longa, is derived from the rhizomes of the Curcuma plant. For centuries, it has been an integral part of traditional medicine in South Asia.

The Power of Curcumin

The magic of turmeric lies in its active compound, curcumin. Curcumin is renowned for its potent anti-inflammatory and antioxidant properties. Studies have shown that curcumin may help combat inflammation, reduce oxidative stress, and even support cognitive function.

Liquid Turmeric: A Game Changer

So, why choose liquid turmeric over traditional capsules or powders? Liquid turmeric offers rapid absorption, ensuring that your body receives the full benefits of curcumin. Additionally, it's gentle on the stomach, making it suitable for those with sensitive digestive systems.

Benefits of Liquid Turmeric

Anti-Inflammatory Powerhouse: Liquid turmeric's fast absorption means quicker relief from inflammation. It may aid in alleviating conditions like arthritis and joint pain.

Heart Health Support: Studies suggest that curcumin may contribute to heart health by improving blood vessel function and reducing cholesterol levels.

Brain Booster: Curcumin's potential to enhance brain function and protect against age-related cognitive decline makes it a promising ally for brain health.

Digestive Aid: Turmeric's anti-inflammatory properties extend to the digestive system, making it useful for conditions like irritable bowel syndrome (IBS).

Chapter 2: CoQ10 – The Energy Elixir

Meet Coenzyme Q10 (CoQ10)

Coenzyme Q10, or CoQ10, is a natural compound found in nearly every cell of the human body. It plays a crucial role in producing energy, making it essential for overall vitality.

CoQ10's Role in Cellular Energy Production

CoQ10 is a vital component of the electron transport chain, a process that generates energy in the form of adenosine triphosphate (ATP). Without CoQ10, our cells wouldn't have the energy needed to function optimally.

Liquid CoQ10: The Fast-Track to Energy

Liquid CoQ10 is a game-changer when it comes to energy supplements. It offers superior absorption compared to traditional CoQ10 capsules, ensuring that your body gets the energy it craves swiftly.

Benefits of Liquid CoQ10

Enhanced Energy: Liquid CoQ10 helps combat fatigue and boosts overall energy levels.

Heart Health: CoQ10 supports a healthy heart by promoting optimal blood circulation and cellular function.

Anti-Aging Properties: CoQ10's antioxidant capabilities can help protect cells from oxidative damage, potentially slowing down the aging process.

Exercise Performance: Athletes and fitness enthusiasts turn to CoQ10 to enhance their endurance and stamina.

Chapter 3: PQQ – The Cellular Rejuvenator

Unveiling Pyrroloquinoline Quinone (PQQ)

PQQ is a relatively recent discovery in the world of nutrition, but its potential benefits are nothing short of extraordinary. PQQ is a micronutrient that acts as a cofactor in cellular processes.

PQQ's Impact on Mitochondria

Mitochondria are the powerhouses of our cells, and PQQ plays a vital role in their maintenance and biogenesis. This makes PQQ essential for overall cellular health.

Liquid PQQ: The Fountain of Youth?

Liquid PQQ boasts superior bioavailability, ensuring that your cells receive this vital micronutrient promptly. It's like giving your mitochondria a refreshing drink!

Benefits of Liquid PQQ

Cellular Energy: PQQ supports mitochondria, helping your cells produce the energy needed for optimal function.

Neuroprotection: PQQ's neuroprotective properties may promote cognitive health and potentially reduce the risk of neurodegenerative diseases.

Heart Health: Some studies suggest that PQQ may have a positive impact on heart health by promoting healthy blood pressure and cholesterol levels.

Anti-Aging Ally: PQQ's ability to combat oxidative stress may contribute to a more youthful appearance and improved overall well-being.

Conclusion

In a world filled with health supplements, liquid turmeric, CoQ10, and PQQ shine as three remarkable elixirs. Their liquid form ensures rapid absorption, making them more effective than ever. Whether you seek to combat inflammation, boost your energy, or rejuvenate your cells, these liquid supplements offer a convenient and potent solution. Unlock the power of liquid supplements and embark on a journey to a healthier, more vibrant you.