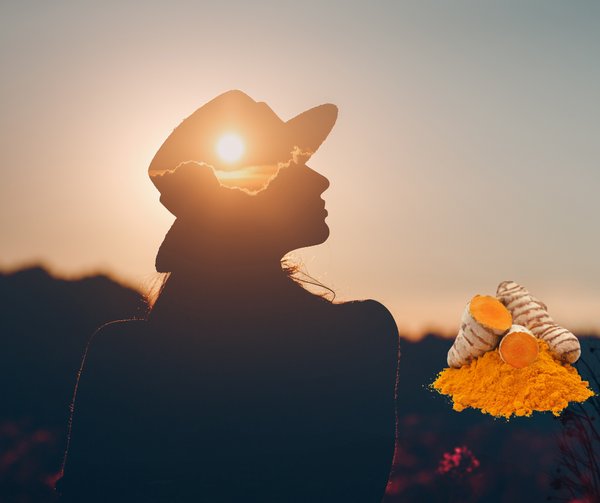 Turmeric for Mental Health: How it Can Help with Anxiety and Depression
Turmeric has been used in Ayurvedic medicine for centuries to treat a variety of ailments. More recently, this golden spice has been touted for its potential to improve mental health. In this post, we'll dive into the research to explore how turmeric may help with anxiety and depression.
First, let's take a closer look at turmeric. Turmeric is a root that belongs to the ginger family. It's commonly used in Indian and Middle Eastern cuisine and is known for its bright yellow color. Turmeric contains a compound called curcumin, which is responsible for many of its health benefits.
For more about Curcumin in turmeric read here. 
Studies have shown that curcumin may help to reduce inflammation, which is believed to play a role in the development of anxiety and depression. Inflammation is the body's natural response to injury or infection, but when it becomes chronic, it can lead to a host of health problems, including mental health issues.
One study found that curcumin was as effective as Prozac in treating depression in mice. Another study found that curcumin was effective in reducing anxiety and depression symptoms in patients with major depressive disorder.
So how exactly does curcumin help with anxiety and depression? It's believed that curcumin increases levels of brain-derived neurotrophic factor (BDNF), which is a protein that plays a key role in brain function. BDNF is involved in the growth and survival of neurons, which are the cells that transmit information in the brain. Low levels of BDNF have been linked to depression and other mental health disorders.
In addition to its potential to reduce inflammation and increase BDNF levels, curcumin may also help to regulate the production of neurotransmitters. Neurotransmitters are chemicals that transmit signals between neurons, and imbalances in these chemicals have been linked to mental health disorders. Curcumin has been shown to increase levels of dopamine and serotonin, two neurotransmitters that are often targeted by antidepressant medications.
While the research on turmeric and mental health is still in its early stages, there's certainly reason to be optimistic. Turmeric is a safe and natural supplement that may help to improve mental health and reduce the need for prescription medications. Of course, it's important to talk to your doctor before adding any new supplements to your routine, especially if you're already taking medications for mental health issues.
When it comes to taking turmeric for mental health, there are a few things to keep in mind. First, it's important to choose a high-quality supplement that contains a standardized amount of curcumin. Look for a supplement that contains at least 95% curcuminoids, which are the active compounds in turmeric.
Second, it's important to take turmeric with black pepper. Black pepper contains a compound called piperine, which has been shown to increase the absorption of curcumin by up to 2,000%. Many turmeric supplements already include black pepper, but if you're taking turmeric in its whole form, be sure to sprinkle some black pepper on top.
In conclusion, turmeric may hold promise as a natural treatment for anxiety and depression. Its active compound, curcumin, has been shown to reduce inflammation, increase BDNF levels, and regulate neurotransmitter production. While more research is needed, turmeric is a safe and natural supplement that may be worth adding to your mental health regimen. Just be sure to talk to your doctor first and choose a high-quality supplement that contains black pepper for optimal absorption.
For more amazing information on how to boost your health and wellness check out our other blog Liquid turmeric: The secret to boosting your health and wellness.