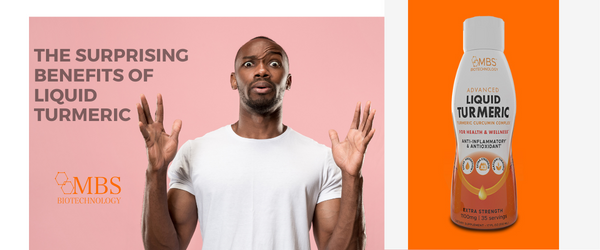 Men's Health: The Surprising Benefits of Liquid Turmeric
Hey there guys! Are you looking for a way to boost your health and wellness naturally? Look no further than liquid turmeric! That's right, this powerful spice isn't just for cooking - it has some unbelievable health benefits for men that you won't believe.

Let's start with inflammation. As men, we know all too well the impact that inflammation can have on our health and wellbeing. Inflammation can be caused by everything from injuries to stress, and if left unchecked, it can lead to a whole host of health issues like heart disease, cancer, and even Alzheimer's disease.
But don't worry, liquid turmeric is here to save the day! The active ingredient in turmeric, curcumin, is a powerful anti-inflammatory that can help reduce inflammation throughout the body.You know what they say, an ounce of prevention is worth a pound of cure! And when it comes to inflammation, liquid turmeric is the ultimate prevention tool.
Did you know that chronic inflammation can lead to a whole host of health problems, like heart disease, cancer, and even Alzheimer's disease? Yikes! But with liquid turmeric on your side, you'll be able to keep inflammation at bay.
And here's a fun fact for you: turmeric has been used in traditional medicine for thousands of years. In fact, it's a staple in Ayurvedic medicine, which is one of the oldest forms of medicine in the world. So, not only is liquid turmeric effective, it's got a rich history to back it up.

But that's just the beginning - liquid turmeric has a whole host of other incredible health benefits for men too. For example, did you know that it can support liver health? The liver is one of the most important organs in the body, responsible for removing toxins and keeping us healthy. And here's where liquid turmeric can help - it contains curcumin, which has anti-inflammatory and antioxidant properties that can protect the liver from damage caused by toxins and inflammation. So if you want to keep your liver in tip-top shape, consider adding liquid turmeric to your daily routine.

And what about the brain? As men, we need to be sharp and focused to tackle all of life's challenges. That's where liquid turmeric comes in - curcumin has been shown to have neuroprotective properties that can improve brain function and reduce the risk of age-related cognitive decline. 

And let's not forget about stress and anxiety. Life can get pretty hectic at times, and stress and anxiety can take a toll on our mental and physical health. But here's the good news - liquid turmeric has been shown to have a calming effect on the body and mind, helping to relieve stress and anxiety. So if you're feeling overwhelmed, take a shot of liquid turmeric for a quick pick-me-up.
And the best part? Liquid turmeric is incredibly easy to incorporate into your daily routine. You can add a few drops to your morning smoothie, mix it into your favorite recipes, or even take it straight up like a shot. It's that simple!

So there you have it, guys - the unbelievable health benefits of liquid turmeric. Give it a try and see the difference for yourself!