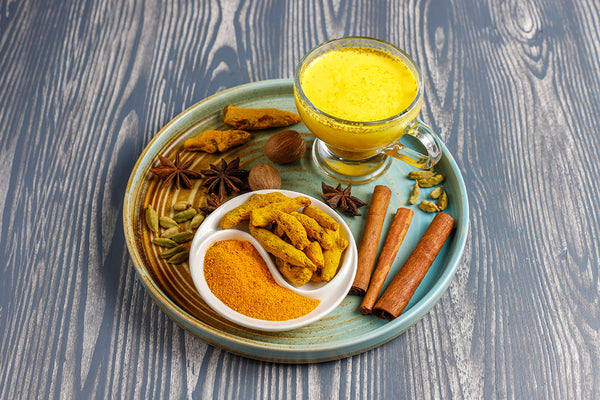 Liquid Turmeric Benefits: The fun behind the orange spice
Turmeric - the spice that adds a burst of sunshine to any dish! This deep, golden-orange spice is not just a pretty face, it's also loaded with nutrition and flavor. A distant cousin of ginger, turmeric is a root native to Asia and has been spicing up dishes for centuries. And it's not just for the culinary world - traditional medicine in China and India have been using turmeric for ages.
But hold onto your aprons, We are about to dive deep into The benefits of tumeric!
Turmeric is one mighty spice! Its main active ingredient, curcumin, has a variety of biological activities that we're still trying to understand. One thing we do know is that turmeric is rich in phytonutrients that can help protect our bodies from free radicals and damage caused by things like pollution and sunlight. Plus, diets rich in plant-based foods, including turmeric, have been associated with a lower risk of cancer and heart disease.
But wait, there's more! Turmeric can also help manage inflammation, which can be helpful for conditions like arthritis, colitis, allergies, and infections. And studies have shown that turmeric may even have a positive effect on mood disorders, depression, and dementia, though we need more research to know for sure.
Did you know that turmeric has been the subject of numerous scientific studies? Curcumin, the active ingredient in turmeric, has been found to have many biological activities, including antioxidant and anti-inflammatory properties. And get this: people with osteoarthritis have reported less joint pain when eating turmeric in recipes! Turmeric has also been explored for its potential benefits in treating mood disorders, depression, and dementia. But, as with most things in life, more research is needed to determine the full extent of turmeric's benefits.
In addition to the conditions mentioned above, studies have also shown that turmeric may have positive effects on inflammation, degenerative eye conditions, metabolic syndrome, hyperlipidemia, anxiety, muscle soreness after exercise, and kidney health. 


Let's talk about some important things to keep in mind before taking turmeric supplements. While turmeric is generally safe to consume in your tea or food, it's crucial to understand how high doses of curcumin, the active ingredient in turmeric, can interact with certain medications.
If you're taking pain relievers like indomethacin, aspirin, ibuprofen or acetaminophen, taking turmeric supplements may lessen their effects. For those receiving chemotherapy treatments, it's essential to talk to your doctor before taking turmeric supplements, as it may interact with certain chemotherapy agents.
In addition, if you're taking blood thinners like warfarin, turmeric supplements may increase your risk of bleeding. And if you're taking immunosuppressive drugs like tacrolimus, consuming high amounts of curcumin may increase side effects.
While turmeric is generally safe, some people may experience side effects such as rash, hives or abdominal pain, particularly when consuming high concentrations of curcumin found in supplements like pills, capsules and gummies.
That's why taking turmeric in liquid form may be a better option, as it's typically easier for the body to absorb and digest. Plus, with liquid turmeric, you can easily add it to your meals or enjoy it in a delicious and refreshing turmeric tea or even our liquid with a smoothie!
When it comes to incorporating turmeric into your daily routine, the possibilities are endless! From adding a pinch to your scrambled eggs in the morning to mixing it into your favorite stir-fry at night, there are so many delicious and creative ways to enjoy this versatile spice.
If you're looking for a quick and easy way to enjoy the benefits of turmeric, try making a turmeric tea! Simply steep a few tablespoons of chopped turmeric root or turmeric powder in boiling water for 5 minutes, strain, and enjoy. For added flavor, try adding a squeeze of lemon or a drizzle of honey.
If you're feeling adventurous, why not try making a turmeric latte? This popular beverage combines the anti-inflammatory benefits of turmeric with the comforting creaminess of milk. Simply heat milk in a small saucepan, add turmeric, cinnamon, ginger, and honey to taste, and blend until frothy.
And for those looking for a more convenient way to get their daily dose of turmeric, liquid turmeric supplements are a great option. Unlike traditional supplements like pills and capsules, liquid supplements are quickly absorbed by the body, allowing for maximum benefit.
So whether you prefer to enjoy turmeric in your meals or as a supplement, there's no denying the numerous health benefits of this golden spice. So go ahead and add a little sunshine to your day with some turmeric!