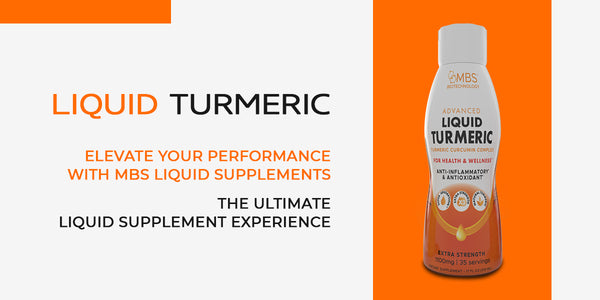 Liquid Turmeric: Why It's the Best Way to Get Your Daily Dose
Turmeric is a popular spice that has been used in traditional medicine for centuries. The main active ingredient in turmeric, curcumin, has been found to have many health benefits. While turmeric can be consumed in many forms, liquid turmeric is one of the most effective ways to get your daily dose. In this blog, we'll explore why liquid turmeric is the best way to consume this powerful spice and how it can benefit your health.
What is Liquid Turmeric?
The Benefits of Liquid Turmeric
Liquid turmeric is simply turmeric that has been extracted into a liquid form. This form of turmeric offers many benefits over other forms such as supplements, pills, or powder. One of the main benefits of liquid turmeric is that it is highly bioavailable. This means that the body can easily absorb and utilize the curcumin in liquid form. Additionally, liquid turmeric is easy to add to your diet and can be mixed into drinks, smoothies, or other foods.
The Health Benefits of Liquid Turmeric
Turmeric for Inflammation
Turmeric has been found to have powerful anti-inflammatory properties. Inflammation is the body's response to injury or infection, but chronic inflammation can lead to a number of health issues such as arthritis, heart disease, and even cancer. Studies have found that curcumin in turmeric can help to reduce inflammation, making liquid turmeric an excellent choice for those looking to support their overall health and well-being.
Turmeric for Digestive Health
Another benefit of liquid turmeric is its ability to support digestive health. Turmeric has been found to have anti-inflammatory properties in the digestive tract and can help to reduce symptoms of conditions like irritable bowel syndrome (IBS), Crohn's disease, and ulcerative colitis. Additionally, turmeric has been shown to help promote the growth of beneficial gut bacteria, which is essential for maintaining a healthy digestive system.
Turmeric for Brain Health
Turmeric has also been found to have neuroprotective properties. Studies have shown that curcumin in turmeric can help to protect the brain from oxidative stress and inflammation, which can contribute to conditions like Alzheimer's disease and depression. Additionally, turmeric has been found to help improve memory and cognitive function in healthy adults.
How to Incorporate Liquid Turmeric into Your Diet
Adding Liquid Turmeric to Smoothies
One of the easiest ways to incorporate liquid turmeric into your diet is by adding it to your favorite smoothie recipes. Simply add a few drops of liquid turmeric to your smoothie ingredients and blend as usual. You can also add other ingredients like ginger, cinnamon, or honey for added flavor and health benefits.
Making Turmeric Tea
Another way to enjoy the benefits of liquid turmeric is by making a soothing cup of turmeric tea. Simply add a few drops of liquid turmeric to a cup of hot water, along with other ingredients like ginger or honey. Not only is this a delicious way to get your daily dose of turmeric, but it's also a relaxing and comforting way to wind down after a long day.
Delicious Ways to Use Liquid Turmeric
One of the great things about liquid turmeric is its versatility in the kitchen. Here are some creative ways to add it to your meals and snacks:
Turmeric latte: Mix a teaspoon of liquid turmeric with some milk or plant-based milk, honey or maple syrup, and a pinch of cinnamon for a cozy and nourishing drink.
Turmeric smoothie: Add a tablespoon of liquid turmeric to your favorite smoothie recipe for an extra antioxidant boost and a vibrant color.
Turmeric rice or quinoa: Cook rice or quinoa with a teaspoon of liquid turmeric and some garlic or onion for a flavorful and colorful side dish.
Turmeric dressing or sauce: Mix a tablespoon of liquid turmeric with olive oil, lemon juice, and herbs for a tasty salad dressing or dipping sauce.
Turmeric soup or stew: Add a teaspoon of liquid turmeric to your favorite soup or stew recipe for a warming and nutritious meal.
Liquid Turmeric Dosage and Side Effects
How Much Liquid Turmeric Should You Take?
The dosage of liquid turmeric can vary depending on the concentration of curcumin in the liquid. Generally, it is recommended to take 500 to 2,000 mg of curcumin per day. However, it is always best to consult with a healthcare professional before adding any new supplement to your diet.
While liquid turmeric is generally safe for most people, there are a few possible side effects to be aware of. These include:
Upset stomach or diarrhea: Some people may experience gastrointestinal discomfort when taking turmeric, especially at higher doses.
Allergic reaction: If you are allergic to turmeric or other members of the ginger family, you may experience symptoms like hives, itching, or swelling.
Interaction with medications: Turmeric may interact with certain medications, including blood thinners, diabetes medications, and chemotherapy drugs. Always talk to your doctor before taking any new supplement if you are on medication.
Risk of kidney stones: Some studies suggest that high doses of turmeric may increase the risk of kidney stones in some people, especially if they have a history of kidney problems.
If you experience any adverse effects while taking liquid turmeric, it is important to stop taking it and consult with a healthcare professional.
Tips for Storing Liquid Turmeric
To keep your liquid turmeric fresh and potent, it is important to store it properly. Here are some tips:
Keep it in a cool and dark place: Liquid turmeric should be stored away from direct sunlight and heat, as these can degrade its potency.
Check the expiration date: Make sure to use your liquid turmeric before the expiration date to ensure its quality and effectiveness.
Use an airtight container: Once opened, liquid turmeric should be stored in an airtight container to prevent oxidation and contamination.
Conclusion
Liquid Turmeric: A Natural and Powerful Anti-Inflammatory
In conclusion, liquid turmeric is a great way to enjoy the many health benefits of this powerful anti-inflammatory spice. With its high concentration of curcumin and easy absorption, liquid turmeric can help reduce inflammation, improve digestion, support brain health, and more. As with any supplement, it is important to choose a high-quality product, consult with a healthcare professional, and be aware of possible side effects. By incorporating liquid turmeric into your diet in creative and delicious ways, you can support your overall health and wellbeing.