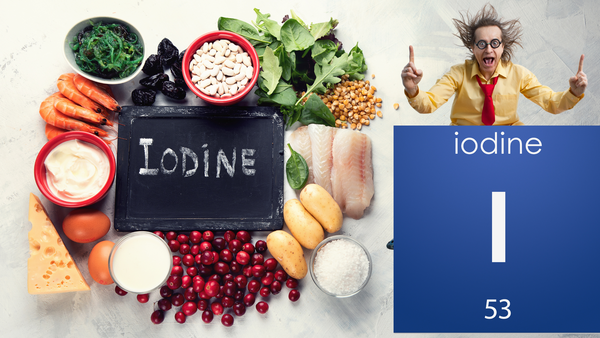 Iodine: The Mineral You Never Knew You Needed (Until Now!)
Iodine - you may have heard of it, but do you really know what it does? It turns out, iodine is more than just a boring mineral found in the earth's soil and ocean waters. It's essential for thyroid health, fetal development, brain function, and even water disinfection!
If you're looking to get the most out of your iodine intake, read on to discover its many uses and benefits. From promoting thyroid health to protecting against nuclear fallout, this little mineral packs a powerful punch.
But before you start supplementing, there are some risks to be aware of, so be sure to talk to your doctor first. 
Now That is out of the way Let's talk about iodine - the mineral that may have been flying under your radar, but is actually pretty darn important. Don't believe us? Read on for some fun facts about iodine and its benefits!
Iodine is a natural mineral found in soil and ocean waters. It's also present in some of our favorite salty snacks (looking at you, potato chips!).

Your thyroid gland needs iodine to produce hormones that regulate metabolism, heart health, and more. Without enough iodine, your thyroid gland could slow down and cause hypothyroidism. Nobody wants a sluggish thyroid! Read more about Iodine and thyroid health here! 

Iodine is particularly important during pregnancy for fetal brain development. And let's be honest, we all want our future offspring to be smart cookies. You can read our article here about Women's health and Iodine here. 

Too much iodine can be harmful, so don't go overboard with supplements. Stick to getting your daily dose from iodized salt, dairy products, and saltwater fish.

Did you know iodine can also be used to disinfect water? Just add a couple of drops of liquid iodine tincture to clear water, or pop an iodine tablet in there. It's like a mini science experiment that keeps you hydrated!

Iodine supplements can even help with fibrocystic breast disease. So if you're a lady who experiences painful lumps in your breasts, talk to your doctor about trying some iodine. Your boobs will thank you!

In case of a nuclear emergency (let's hope not!), potassium iodide can be used to protect the thyroid gland from radiation injuries. Plus, it comes in tablet and liquid forms so you can take your pick!

Iodine is also great for killing bacteria and preventing infections, making it a handy addition to your first aid kit. Plus, it's way less intimidating than hydrogen peroxide!

Bottom line: iodine is a pretty big deal. So make sure you're getting enough in your diet, especially if you're pregnant or nursing. And if you're considering supplements, talk to your doctor first. Don't mess with iodine, folks!

Number 10 on the list of uses for iodine is treating infections. Iodine can be used topically in a liquid form to help treat and prevent infections. It works by killing bacteria in and around mild cuts and scrapes.

Fun fact: before modern antiseptics were developed, iodine was used as a disinfectant in surgery and other medical procedures. It was also used by ancient Greeks and Egyptians to treat wounds and infections.
Just in case that was not enough fun... here is some more
In addition to its medical uses, iodine is also commonly used in photography, as well as in the production of certain types of dyes and pigments.

Iodine is the heaviest element that is essential for human health, and it's the only non-metallic element that is a liquid at room temperature.

The famous "iodine clock reaction" is a chemistry demonstration that involves mixing potassium iodide, hydrogen peroxide, and starch to create a visually striking color change.

Have you ever wondered why table salt is sometimes called "iodized salt"? That's because many countries, including the United States, add iodine to table salt to help prevent iodine deficiency.

In the event of a nuclear disaster, taking potassium iodide (KI) can help protect your thyroid gland from radiation exposure. But don't stock up on KI just yet - the risk of a nuclear disaster is very low, and taking too much KI can actually be harmful.
Ah, iodine - the mineral that's more essential than your morning coffee (okay, maybe not that essential, but still pretty important). You see, iodine is crucial for thyroid health, which is responsible for regulating your metabolism, heart health, and a whole bunch of other bodily functions.
Now, while iodine can be found in many foods, some people might not be getting enough of it through their diet alone. And, if you're a vegetarian or vegan, you may be at an even higher risk of iodine deficiency since many of the best sources are animal-based.
But fear not! If you live in an area where the soil is low in iodine, or you're just not getting enough through your diet, supplementing with iodine can help ensure you're getting the right amount. Just make sure you're under the guidance of a healthcare professional because, like all good things, too much iodine can be harmful. The appropriate dose can vary depending on your age, sex, and overall health status. So, go ahead and get your iodine on - but do it responsibly!
Learn more about Unlocking the benefits of iodine including thyroid health here