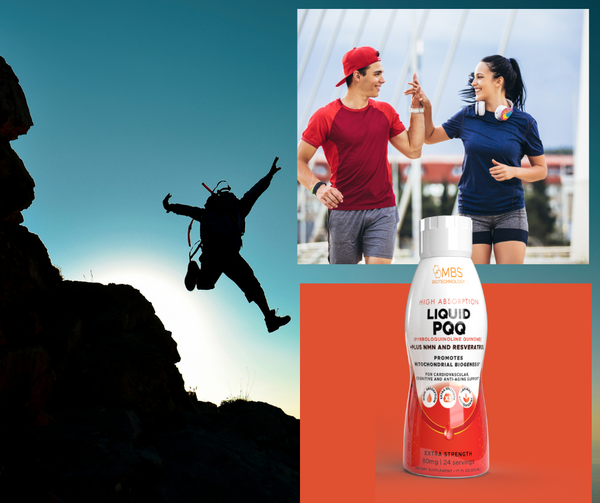 Introducing the Power of Liquid PQQ: Can It Supercharge Your Brain Health?
PQQ supplements have been making waves in the health and wellness industry lately, thanks to their promising potential to boost energy, memory, and overall brain function. But what exactly is PQQ, and how can it benefit your health? Let's dive into the science behind this supplement and discover how liquid PQQ can supercharge your brain health.
What is Liquid PQQ? PQQ, or pyrroloquinoline quinone, is a natural compound that's found in fruits, vegetables, and fermented soybeans. It's an antioxidant and is known to be more potent than vitamin C when it comes to fighting off free radicals that can damage cells and lead to chronic diseases.
PQQ is also known to promote the growth of mitochondria, the powerhouses of our cells. Mitochondrial dysfunction has been linked to various health problems, including heart disease, diabetes, and cancer. By supporting healthy mitochondrial function, PQQ may help reduce the risk of these conditions.
How Can Liquid PQQ Benefit Your Health? Research on PQQ is still in its early stages, but there are promising indications that it can provide a range of health benefits. Here are some of the key ways in which liquid PQQ may help boost your brain health:
Improved cognitive function: Studies have shown that PQQ can enhance cognitive function, including attention, memory, and learning. It also supports the growth of new brain cells, which can improve overall brain health.

Increased energy: By supporting mitochondrial function, PQQ can help boost energy levels, making it a popular supplement among athletes and fitness enthusiasts.

Reduced inflammation: PQQ has anti-inflammatory properties and may help lower levels of inflammatory markers in the body. This can be particularly beneficial for those with chronic inflammation-related conditions, such as arthritis and heart disease.

Better sleep and mood: PQQ may help improve sleep quality and duration, as well as alleviate fatigue. This can lead to better overall mood and mental health.

Anti-aging effects: PQQ has been shown to have anti-aging effects, including reducing the appearance of fine lines and wrinkles and improving skin elasticity.
While more research is needed to fully understand the benefits of liquid PQQ, early indications are promising. If you're interested in incorporating this supplement into your daily routine, be sure to consult with your healthcare provider to determine the appropriate dosage and ensure it won't interfere with any medications you're currently taking.
Fun Fact: Did you know that PQQ was first discovered in 1979 in bacteria found in soil samples? It wasn't until the 1990s that researchers began to investigate its potential health benefits in humans.
Studies Supporting the Benefits of Liquid PQQ:
In conclusion, liquid PQQ is a natural supplement with promising potential to supercharge your brain health. While more research is needed to fully understand its benefits, early studies suggest it may enhance cognitive function, reduce inflammation, and promote mitochondrial function. Be sure to consult with your healthcare provider before taking liquid PQQ to ensure it's right for you.