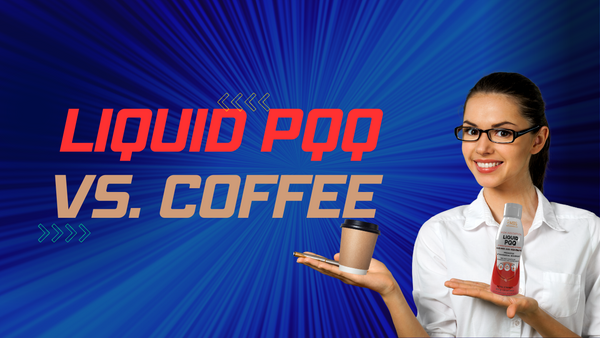 Liquid PQQ vs. Coffee: The Battle of Natural Energy Boosters
Are you ready for an epic showdown? In one corner, we have the tried-and-true champion of energy-boosting, the beloved cup of joe – coffee! And in the other corner, we have a rising star, the newcomer with immense potential – liquid PQQ! Get ready for the ultimate battle of natural energy boosters as we compare and contrast these two contenders.
Round 1: Caffeine Kick
Coffee enters the ring with its powerhouse ingredient, caffeine. We all know that caffeine can give us that much-needed jolt to start the day. But here comes liquid PQQ, packing a punch of its own. PQQ, short for Pyrroloquinoline Quinone, is a mighty compound that works at the cellular level to enhance energy production. While coffee offers an immediate energy surge, liquid PQQ provides sustained vitality throughout the day without the dreaded caffeine crash.
Round 2: Antioxidant Showdown
Coffee is no slouch in the antioxidant department. Its rich blend of antioxidants can help fight off free radicals and protect our cells from damage. But liquid PQQ steps into the ring armed with its own arsenal of antioxidants. It's like unleashing a superhero team – PQQ fights oxidative stress, supports healthy aging, and promotes overall well-being. Talk about a knockout punch!
Round 3: Focus and Brainpower
Coffee is often hailed as the go-to drink for improved focus and mental alertness. It can undoubtedly give us a temporary boost in concentration. However, liquid PQQ takes brainpower to a whole new level. By supporting mitochondrial function, PQQ helps nourish our brain cells and enhance cognitive performance. It's like giving your brain a turbocharger for optimized focus and mental clarity.
Round 4: Crash and Side Effects
Ah, the notorious coffee crash. We've all experienced that sudden drop in energy after the initial caffeine rush wears off. And let's not forget the jitters and potential digestive woes that can come with excessive coffee consumption. Liquid PQQ, on the other hand, offers a smooth and steady energy flow without any crashes or unpleasant side effects. It's like riding a rollercoaster of energy without the scary drops.
The Winner: Liquid PQQ!
While coffee has long been the reigning champion of energy-boosting beverages, liquid PQQ emerges victorious in this battle. With its sustained energy, powerful antioxidants, and brain-boosting properties, liquid PQQ proves to be a worthy contender in the quest for natural vitality. Plus, it doesn't stain your teeth like coffee!
So, the next time you're reaching for that cup of joe, consider giving liquid PQQ a chance. It's time to shake up your energy routine and experience the incredible benefits of this rising star. Get ready to conquer the day with liquid PQQ as your trusty sidekick!
Disclaimer: Always consult with your healthcare provider before making any changes to your dietary routine or adding new supplements.
Now go forth, energized warriors, and let liquid PQQ be your secret weapon in the battle of natural energy boosters! Cheers to boundless vitality and endless adventures!