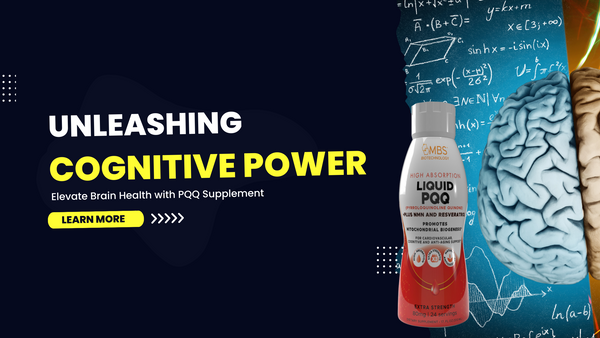 Unleashing Cognitive Power: Elevate Brain Health with PQQ Supplement
Are you ready to unlock the full potential of your brain? Introducing the extraordinary world of PQQ supplements! In this blog post, we will delve into the fascinating realm of PQQ and its remarkable impact on brain health. Get ready to embark on a journey that will revolutionize the way you think about cognitive enhancement.
What is PQQ?
Let's start by unraveling the mystery behind PQQ. Pyrroloquinoline quinone, or PQQ for short, is a naturally occurring compound found in various foods and even in the human body. It belongs to a class of compounds known as quinones, which are essential for cellular function and energy metabolism.
PQQ stands out from the crowd due to its incredible ability to support and enhance brain health. Its unique molecular structure enables it to act as a powerful antioxidant, protecting brain cells from the damaging effects of oxidative stress. But PQQ's influence on the brain doesn't stop there. This exceptional compound also plays a vital role in promoting mitochondrial function, the energy powerhouses of our cells.
By optimizing mitochondrial performance, PQQ helps fuel the brain with the energy it needs to perform at its peak. Think of it as a turbocharger for your brain cells, boosting their efficiency and vitality. So, if you're ready to take your cognitive abilities to new heights, PQQ supplement might just be the secret weapon you've been searching for.
The Remarkable Benefits of PQQ Supplement
Prepare to be amazed as we uncover the extraordinary benefits of PQQ supplement for enhanced brain health. This little powerhouse compound packs a punch like no other, and its effects are truly mind-blowing.
Boost Your Brainpower: PQQ has been shown to promote neurogenesis, the growth and development of new brain cells. It's like giving your brain a fresh coat of paint and expanding its capacity for learning, memory, and cognitive function. Who wouldn't want a brain that's firing on all cylinders?
Unleash Your Energy: Say goodbye to sluggishness and hello to boundless energy. PQQ is a master at revving up your mitochondrial engines, boosting ATP production, and providing a sustainable energy source for your brain. It's like having your own personal energy drink, minus the jitters and crashes.
Fight Off Aging: Aging is inevitable, but that doesn't mean we have to accept its toll on our brain. PQQ is here to fight back against age-related cognitive decline. By reducing oxidative stress and inflammation, PQQ helps keep your brain youthful, vibrant, and sharp as a tack. Who says you can't be a wise old owl with the mind of a whip-smart youngster?
The PQQ Supplement Experience: More Than Just Brain Power
Now, here's where things get even more exciting. PQQ isn't just a one-trick pony when it comes to brain health. It's like a superhero with a whole array of powers, extending its benefits beyond cognitive enhancement.
Elevate Your Mood: Feeling a little down in the dumps? PQQ has been shown to support the production and release of important neurotransmitters like serotonin and dopamine, which are responsible for regulating mood and emotions. Say hello to a brighter outlook on life and a spring in your step.
Protect Your Heart: It turns out PQQ isn't just brain candy—it has a soft spot for your ticker too. Studies suggest that PQQ has cardio-protective properties, helping to maintain a healthy heart and support cardiovascular function. It's like having a trusty sidekick keeping your heart in tip-top shape.
Now that you're well-acquainted with the incredible benefits of PQQ supplement, get ready for even more surprises as we explore the best ways to incorporate this brain-boosting superhero into your daily routine. Buckle up, folks, because we're just getting started on this exhilarating PQQ adventure!
Unleashing the Power of PQQ with MBS Biotechnology
Now that you're fully immersed in the world of PQQ supplement and its awe-inspiring benefits, it's time to discover the secret sauce that takes your PQQ experience to a whole new level—MBS Biotechnology.
At MBS Biotechnology, we believe that quality and effectiveness should never be compromised. That's why we have meticulously crafted our PQQ supplement to deliver the purest and most potent form of this incredible compound. We leave no stone unturned in our quest to provide you with the best brain-boosting experience possible.
Our PQQ supplement is meticulously sourced from premium ingredients, ensuring the highest levels of purity and bioavailability. We take pride in our state-of-the-art manufacturing processes that adhere to the strictest quality standards, so you can trust that you're getting a product that's safe, reliable, and truly effective.
But we don't stop there. We understand that the journey to optimal brain health is not a solo endeavor. That's why we offer comprehensive support and guidance every step of the way. Our team of experts is dedicated to providing you with personalized assistance, answering your questions, and helping you maximize the benefits of our PQQ supplement.
Join the PQQ Supplement Revolution with MBS Biotechnology
Are you ready to unlock your brain's full potential? It's time to join the PQQ revolution and experience the remarkable benefits that await you. With MBS Biotechnology as your trusted partner, you can embark on a journey of cognitive enhancement, improved energy, and overall brain vitality.
Don't settle for mediocre brain health. Choose MBS Biotechnology's PQQ supplement and unleash the power of your mind like never before. We're here to support you every step of the way, ensuring that you have the tools and knowledge to optimize your brain health and live life to the fullest.
It's time to seize the opportunity and embrace the limitless possibilities that PQQ supplement offers. Trust in MBS Biotechnology's commitment to excellence and embark on a brain-boosting adventure like no other. Get ready to rewrite the story of your brain with MBS Biotechnology and our exceptional PQQ supplement. Your cognitive revolution starts now!
The PQQ Lifestyle: Beyond the Supplement
As you integrate PQQ into your daily routine with the help of MBS Biotechnology, it's important to remember that brain health extends beyond just taking a supplement. Embracing a PQQ lifestyle can further enhance your cognitive abilities and overall well-being.
Feed Your Brain: Opt for a brain-healthy diet that includes foods rich in antioxidants, omega-3 fatty acids, and essential nutrients. Blueberries, fatty fish, nuts, and leafy greens are just a few examples of brain-boosting foods to incorporate into your meals.

Stay Active: Regular physical exercise not only benefits your body but also promotes brain health. Engage in activities that get your heart pumping and increase blood flow to the brain. Whether it's jogging, swimming, dancing, or practicing yoga, find an exercise routine that suits your preferences and stick to it.

Challenge Your Mind: Keep your brain sharp by engaging in mental activities that stimulate cognitive function. Solve puzzles, play brain games, learn a new skill, or engage in creative endeavors such as painting or playing a musical instrument. By challenging your mind, you can maintain and even improve your cognitive abilities.

Prioritize Quality Sleep: Sleep plays a crucial role in brain health and overall well-being. Aim for 7-8 hours of quality sleep each night to allow your brain to rest, rejuvenate, and consolidate memories. Establish a bedtime routine and create a sleep-friendly environment to optimize your sleep quality.

Manage Stress: Chronic stress can take a toll on your brain health. Find healthy ways to manage stress, such as practicing mindfulness meditation, deep breathing exercises, or engaging in activities that bring you joy and relaxation. Prioritize self-care and make time for activities that help you unwind and recharge.
 Elevate Your Brain Health with MBS Biotechnology's PQQ Supplement
In the quest for optimal brain health, MBS Biotechnology's PQQ supplement emerges as a game-changer. With its remarkable ability to enhance cognitive function, boost energy levels, and support overall well-being, PQQ has become an indispensable tool for those seeking to unlock their brain's full potential.
Choosing MBS Biotechnology means choosing excellence, quality, and unwavering commitment to your brain health. Our PQQ supplement stands as a testament to our dedication to providing you with the finest ingredients, rigorous manufacturing processes, and personalized support throughout your journey.
Embrace the PQQ lifestyle and complement your supplement regimen with brain-healthy habits. Nourish your brain, stay active, challenge your mind, prioritize quality sleep, and manage stress. By incorporating these practices into your daily life, you can amplify the benefits of MBS Biotechnology's PQQ supplement and experience a holistic transformation in your brain health.
Are you ready to embark on a remarkable journey of cognitive enhancement and vitality? Join the PQQ revolution with MBS Biotechnology and discover the incredible potential of your brain. It's time to rewrite the story of your brain and unleash your true cognitive power. Elevate your brain health, embrace the PQQ lifestyle, and embrace a life filled with clarity, focus, and optimal brain function.