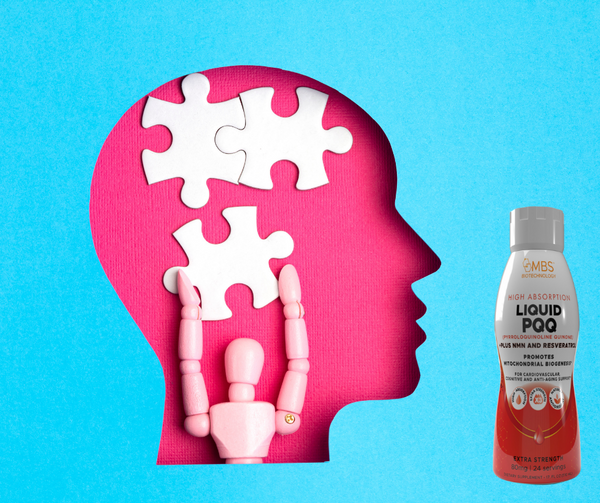 Supercharge Your Cognitive Function with Liquid PQQ: The Ultimate Brain Booster
Unlock the Power of the World's First Highly Absorbable Liquid PQQ for a Sharper, Healthier Mind.
Are you looking to supercharge your cognitive function and mental performance? Look no further! Liquid PQQ is the ultimate brain booster, designed to support your mind and keep it sharp. Discover the science behind this innovative supplement and learn how it can help you enhance your cognitive function in a fun and engaging way.
What is Liquid PQQ?
Liquid PQQ (Pyrroloquinoline Quinone) is a highly absorbable form of the powerful antioxidant PQQ. This unique supplement is designed to support heart health, cognitive function, and promote mitochondrial biogenesis. Thanks to its liquid form, it's easier than ever to incorporate PQQ into your daily routine and reap the benefits of this powerful nutrient.
The Science Behind PQQ and Cognitive Function
PQQ has been the subject of numerous studies, all highlighting its potential to support cognitive function and overall brain health. Researchers have found that PQQ plays a crucial role in the growth and development of new mitochondria, the energy-producing powerhouses of our cells. This process, called mitochondrial biogenesis, is essential for maintaining optimal brain function as we age [1].
Moreover, PQQ has been shown to protect neurons from oxidative stress and support the production of nerve growth factor (NGF), a vital protein for the survival and growth of neurons [2]. These combined effects contribute to PQQ's ability to enhance cognitive function, memory, and overall brain health.
Why Choose Liquid PQQ?
Enhanced Absorption and Bioavailability
Liquid PQQ offers superior absorption compared to its solid counterparts. The liquid form allows for faster, more efficient delivery of the nutrient into your bloodstream, ensuring maximum benefits for your cognitive function.
H3: Easy Dosing and Customization
One of the best aspects of Liquid PQQ is its versatility. It's easy to adjust your daily intake according to your needs, whether you want to increase or decrease your PQQ dosage. Simply drink more or less to customize your cognitive enhancement.
Supercharge Your Cognitive Function with Liquid PQQ
Improve Memory and Focus
By supporting mitochondrial biogenesis and protecting neurons from oxidative stress, Liquid PQQ can help enhance memory and focus, giving you the mental edge you need to excel in your daily life [3].
Boost Brain Health and Longevity
With its powerful antioxidant properties and support for neuronal growth, Liquid PQQ is an essential supplement for maintaining optimal brain health and promoting cognitive longevity.
A Fun and Engaging Way to Enhance Your Cognitive Function
Incorporating Liquid PQQ into your daily routine is not only easy but also enjoyable. Its liquid form allows for creative and fun ways to consume it, whether you want to mix it into your favorite smoothie, juice, or even just take it straight. Enhancing your cognitive function has never been more enjoyable!
Get Started with Liquid PQQ Today!
Don't miss out on the opportunity to supercharge your cognitive function and support a healthier, sharper mind. Liquid PQQ is the ultimate brain booster, offering unparalleled benefits for your cognitive health. Experience the difference today and unlock your full mental potential with Liquid PQQ!
References:
[1] Chowanadisai, W., Bauerly, K.A., Tchaparian, E., Wong, A., Cortopassi, G.A., & Rucker, R.B. (2010). Pyrroloquinoline quinone stimulates mitochondrial biogenesis through cAMP response element-binding protein phosphorylation and increased PGC-1α expression.