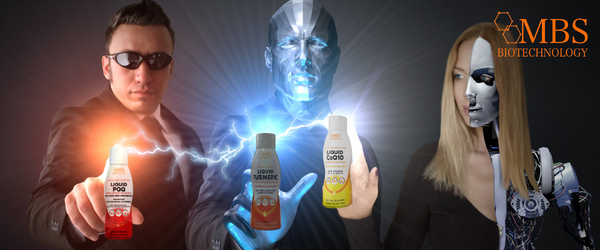 The Power Trio: Why Combining Turmeric, CoQ10, and PQQ Supplements Can Transform Your Health
If you're looking to boost your overall health and wellness, consider incorporating a combination of three powerful supplements - turmeric, CoQ10, and PQQ - into your daily routine. These three supplements work together to provide a host of benefits, from reducing inflammation and boosting immune function to supporting heart health and cognitive function.

In this blog post, we'll explore the benefits of combining turmeric, CoQ10, and PQQ supplements and how they can transform your health.

What is Turmeric?

Turmeric is a spice that has been used for centuries in traditional medicine for its numerous health benefits. It is known for its anti-inflammatory properties, which make it an effective natural treatment for inflammatory conditions like arthritis.

The active ingredient in turmeric, curcumin, has been shown to have powerful antioxidant properties that can help protect against cellular damage caused by free radicals. In addition to its anti-inflammatory and antioxidant properties, turmeric has also been shown to improve brain function and reduce the risk of age-related cognitive decline.

What is CoQ10?

CoQ10 is a coenzyme that is found in every cell in the body. It plays a crucial role in producing energy and is essential for promoting a healthy heart and regulating blood sugar levels.

As we age, our body's natural levels of CoQ10 begin to decline, which can lead to a host of health issues, including heart disease, high blood pressure, and diabetes. Supplementing with CoQ10 can help to replenish the body's natural levels and support overall health and wellness.

What is PQQ?

PQQ, or pyrroloquinoline quinone, is a vitamin-like compound that is found in some plant foods. It is known for its ability to promote mitochondrial biogenesis, which is the process of creating new mitochondria in the body.

Mitochondria are responsible for producing energy in the body and play a crucial role in overall health and wellness. By promoting mitochondrial biogenesis, PQQ can help to increase energy levels, improve cognitive function, and reduce inflammation.

The Benefits of Combining Turmeric, CoQ10, and PQQ Supplements

Now that we've explored the benefits of each individual supplement, let's take a closer look at how they work together to provide even greater health benefits.

Reduces Inflammation
Both turmeric and PQQ have powerful anti-inflammatory properties that can help to reduce inflammation in the body. Inflammation is a natural response to injury or infection, but chronic inflammation can lead to a range of health issues, including heart disease, cancer, and Alzheimer's disease.

By combining turmeric and PQQ supplements, you can help to reduce inflammation in the body and improve overall health and wellness.

Boosts Immune Function
Turmeric and PQQ also contain compounds that can help to boost the immune system, making it more effective at fighting off infections and illnesses.

CoQ10, on the other hand, is essential for promoting a healthy heart and regulating blood sugar levels. By limiting oxidative damage to your veins, arteries, and platelets, CoQ10 can help to improve overall health and reduce the risk of heart disease.

Supports Cognitive Function
PQQ has been shown to promote mitochondrial biogenesis, which can help to improve cognitive function and reduce the risk of age-related cognitive decline.

Turmeric, with its anti-inflammatory and antioxidant properties, has also been shown to improve brain function and reduce the risk of cognitive decline.

Promotes Heart Health
CoQ10 is an essential nutrient that plays a vital role in the production of energy within our cells. It is primarily found in the mitochondria, which are responsible for producing energy in our bodies. Our heart is one of the most energy-demanding organs in our body, requiring a constant supply of energy to function optimally. CoQ10 has been shown to be essential for promoting a healthy heart and regulating blood sugar levels.

CoQ10 has been extensively studied for its ability to support heart health. Research has shown that it can help to improve the function of the heart and reduce the risk of heart disease. One study found that CoQ10 supplementation reduced the risk of major adverse cardiovascular events by 14%. Another study found that CoQ10 supplementation improved heart function in individuals with heart failure.

CoQ10 has also been shown to have antioxidant properties, which can help to protect our heart from oxidative stress. Oxidative stress is a condition that occurs when there is an imbalance between the production of free radicals and the body's ability to neutralize them. This can lead to cell damage, inflammation, and a range of health issues.

By taking CoQ10 as part of a daily supplement routine, you can help to support your heart health and reduce the risk of heart disease. It is important to note that while CoQ10 is found in small amounts in certain foods, such as fatty fish, organ meats, and whole grains, it is difficult to get enough of this nutrient through diet alone. Supplementation can be an effective way to ensure that you are getting enough CoQ10 to support optimal heart health.
In summary, combining turmeric, CoQ10, and PQQ supplements can have a synergistic effect on your health and wellness. These three supplements work together to provide a range of benefits, from reducing inflammation and supporting cognitive function to promoting heart health and aiding in weight loss. By taking all three supplements in liquid form, you can experience the maximum absorption rates and the ultimate, all-in-one solution for your daily supplement needs. With our limited-time offer and high-quality guarantee, there's no reason not to give these powerful supplements a try and take control of your health and wellness today.