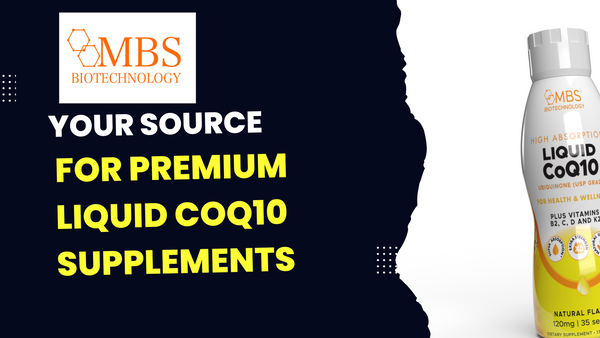 MBS Biotechnology: Your Source for Premium Liquid CoQ10 Supplements
Welcome to the world of premium liquid CoQ10 supplements! At MBS Biotechnology, we take pride in being your trusted source for high-quality CoQ10 products that can supercharge your health and well-being. Whether you're looking to boost your energy levels, support your heart health, or enhance your overall vitality, we've got you covered. Join us on this journey as we explore the incredible benefits of liquid CoQ10 and discover why MBS Biotechnology stands out from the rest.
Understanding CoQ10 and Its Benefits
CoQ10, short for Coenzyme Q10, is a powerful antioxidant naturally produced by our bodies. It plays a vital role in energy production at the cellular level and acts as a potent defender against oxidative stress. However, our CoQ10 levels can decline with age, stress, and certain health conditions, making supplementation crucial.
The benefits of CoQ10 supplementation are wide-ranging and impressive. Research suggests that it can boost energy levels, support cardiovascular health, strengthen the immune system, and even promote healthy skin. By incorporating liquid CoQ10 into your daily routine, you're giving your body the essential fuel it needs to thrive.
At MBS Biotechnology, we offer a diverse range of liquid CoQ10 supplements designed to meet your specific needs. Whether you prefer a particular flavor, concentration, or formulation, we have the perfect option for you. Our commitment to excellence and dedication to sourcing the finest ingredients sets us apart in the industry.
To learn more about the incredible benefits of CoQ10 and how our liquid supplements can transform your well-being, check out our informative blog post on "The Power of CoQ10: Energize Your Life." You'll discover fascinating insights and practical tips to maximize the benefits of CoQ10 supplementation.
Stay tuned as we delve deeper into the advantages of liquid CoQ10, the manufacturing standards we uphold at MBS Biotechnology, and the various product options we offer. Get ready to unlock the potential of liquid CoQ10 and experience the remarkable difference it can make in your life.
The MBS Biotechnology Difference
When it comes to choosing a reliable source for your CoQ10 supplements, MBS Biotechnology stands head and shoulders above the competition. We take great pride in our commitment to quality, transparency, and customer satisfaction. Here's what sets us apart:
Rigorous Quality Control
At MBS Biotechnology, we prioritize quality at every step of the production process. From sourcing the finest ingredients to implementing strict manufacturing protocols, we leave no stone unturned in ensuring the purity, potency, and effectiveness of our liquid CoQ10 supplements. Our products undergo thorough testing by independent laboratories to guarantee their safety and efficacy. We are proud to be GMP-certified, which is a testament to our unwavering commitment to delivering the highest quality supplements to our customers.
Premium Ingredients
We believe that the key to exceptional products lies in using premium ingredients. That's why we source our CoQ10 from trusted suppliers who meet our stringent standards. Our liquid CoQ10 supplements contain pure, bioavailable CoQ10 that is easily absorbed by the body. We never compromise on quality because we know that our customers deserve nothing but the best.
Innovative Liquid Formulation
Unlike traditional CoQ10 supplements in pill or capsule form, our liquid formulation offers several distinct advantages. Liquid CoQ10 is more easily absorbed by the body, ensuring maximum bioavailability and effectiveness. It eliminates the need for swallowing large pills and allows for customizable dosing options. With our convenient dropper bottle, you can easily control your intake and tailor it to your specific needs. The smooth and great-tasting liquid makes incorporating CoQ10 into your daily routine a breeze.
Success Stories from Satisfied Customers
Don't just take our word for it – let's hear from some of our satisfied customers who have experienced the remarkable benefits of liquid CoQ10 from MBS Biotechnology:
Sarah's Story: Sarah, a busy professional, struggled with low energy levels and fatigue. After incorporating Liquid CoQ10 Boost into her daily routine, she noticed a significant improvement in her energy levels, allowing her to stay focused and productive throughout the day. She now swears by liquid CoQ10 as her go-to energy booster.
 Mark's Journey to Heart Health: Mark had concerns about his cardiovascular health and wanted to take proactive steps to support his heart. He started taking Liquid CoQ10 Plus and noticed a positive change in his overall well-being. His blood pressure levels stabilized, and he felt more energetic and vibrant. Mark now recommends liquid CoQ10 to his friends and family for heart health support.
Lisa's Active Lifestyle Support: Lisa, an avid runner, wanted to optimize her exercise performance and support her muscles' recovery. After incorporating Liquid CoQ10 for Active Lifestyles into her routine, she noticed a faster recovery time, reduced muscle soreness, and improved endurance. Lisa now considers liquid CoQ10 an essential part of her fitness regimen.
These success stories are just a glimpse of how liquid CoQ10 from MBS Biotechnology has positively impacted the lives of our customers. Their experiences highlight the effectiveness and value of our premium CoQ10 supplements.
Tips for Incorporating Liquid CoQ10 into Your Routine
Now that you understand the remarkable benefits of liquid CoQ10, it's time to explore how you can seamlessly incorporate it into your daily routine. Here are some helpful tips to ensure you get the most out of your CoQ10 supplementation:
1 Consistency is Key: To experience the full benefits of liquid CoQ10, it's important to be consistent with your supplementation. Set a reminder or establish a daily routine that includes taking your liquid CoQ10 at the same time each day. This will help ensure you receive a consistent supply of this vital nutrient.
2 Follow Recommended Dosage: Follow the recommended dosage instructions provided by MBS Biotechnology or consult with your healthcare professional. The appropriate dosage may vary depending on your age, health condition, and specific needs. It's always best to start with the recommended dose and adjust accordingly based on your individual requirements.
3 Combine with Healthy Fats: CoQ10 is a fat-soluble nutrient, which means it is best absorbed when consumed with healthy fats. Consider taking your liquid CoQ10 supplement with a meal that contains healthy fats like avocados, nuts, or olive oil. This can enhance the absorption and bioavailability of CoQ10, maximizing its benefits.
4 Track Your Progress: Keep a journal or make notes about how you feel after incorporating liquid CoQ10 into your routine. Monitor changes in your energy levels, cardiovascular health, cognitive function, and overall well-being. Tracking your progress will help you understand the impact of CoQ10 on your body and serve as a valuable reference for future adjustments.
5 Pair with a Healthy Lifestyle: While liquid CoQ10 offers incredible benefits, it is essential to remember that it works best in conjunction with a healthy lifestyle. Maintain a balanced diet, engage in regular physical activity, manage stress levels, and get sufficient sleep. By combining liquid CoQ10 supplementation with a holistic approach to wellness, you can optimize your results and promote long-term vitality.
Choose MBS Biotechnology for Premium Liquid CoQ10 Supplements
When it comes to selecting the right CoQ10 supplement, quality and reliability are paramount. At MBS Biotechnology, we pride ourselves on delivering premium liquid CoQ10 supplements that meet the highest industry standards. Here's why you can trust us as your source for superior CoQ10 supplementation:
Pharmaceutical-Grade Quality: Our liquid CoQ10 supplements are formulated with pharmaceutical-grade ingredients, ensuring purity, potency, and maximum effectiveness. We prioritize quality and adhere to strict manufacturing processes to deliver products of the highest standard.
Superior Absorption: Liquid CoQ10 is known for its superior absorption compared to traditional pill or capsule forms. Our liquid formulations are carefully designed to enhance bioavailability, allowing your body to efficiently absorb and utilize CoQ10 for optimal results.
Trusted Reputation: MBS Biotechnology has earned a reputation as a trusted provider of premium liquid supplements. With a commitment to customer satisfaction, scientific excellence, and product integrity, we strive to exceed your expectations and support your journey to better health.
Comprehensive Product Range: Our product range includes a variety of liquid CoQ10 formulations tailored to different needs and preferences. Whether you're looking for an energy boost, cardiovascular support, or overall well-being, we have the right CoQ10 supplement for you.
Customer Support: We value our customers and are here to support you every step of the way. If you have any questions, concerns, or require assistance, our knowledgeable customer support team is ready to help.
Choose MBS Biotechnology for your liquid CoQ10 supplementation needs and experience the difference of premium quality, exceptional results, and a partner.