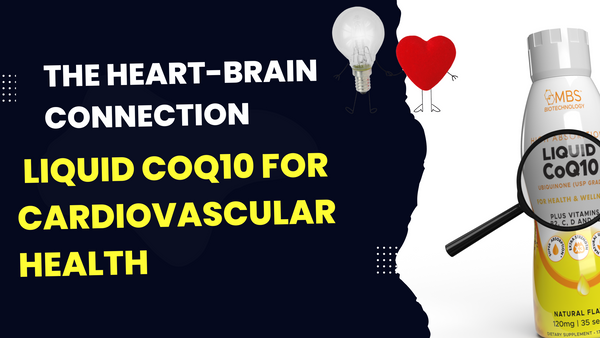 The Heart-Brain Connection: Liquid CoQ10 for Cardiovascular Health
Welcome to our blog, where we explore the fascinating world of health and wellness. In today's post, we dive into the intriguing connection between the heart and brain and how Liquid CoQ10 can play a vital role in supporting cardiovascular health. Join us as we uncover the secrets behind this powerful antioxidant and its potential benefits for your heart and overall well-being.
The Heart-Brain Connection: Understanding the Link
The human body is an intricate web of interconnected systems, and nowhere is this interplay more evident than in the relationship between the heart and brain. While we often think of these organs as separate entities, they are in fact intimately connected, influencing and relying on each other for optimal functioning.
The heart, with its rhythmic beating, supplies oxygen and vital nutrients to every cell in the body, ensuring their proper functioning. But did you know that the heart also communicates with the brain? Through a complex network of nerves and hormones, the heart sends signals to the brain, influencing our emotions, cognition, and overall well-being.
Conversely, the brain plays a crucial role in regulating the heart's activity. It controls the autonomic nervous system, which governs involuntary bodily functions such as heart rate, blood pressure, and circulation. The brain also processes and interprets the emotions and stressors that can impact heart health.
Understanding this intricate connection between the heart and brain is key to comprehending how supporting one can positively impact the other. By nourishing and maintaining a healthy cardiovascular system, we can promote optimal brain function and vice versa. That's where Liquid CoQ10 comes into play.
Liquid CoQ10: The Heart's Mighty Ally
Coenzyme Q10, commonly known as CoQ10, is a naturally occurring compound found in every cell of our body. It acts as a powerful antioxidant, protecting cells from damage caused by harmful free radicals. While CoQ10 is present throughout the body, its highest concentrations are found in organs with high energy demands, including the heart.
Liquid CoQ10 is a convenient and effective way to supplement your body's natural levels of this vital compound. As a liquid formulation, it offers enhanced absorption compared to traditional CoQ10 supplements, ensuring that your body can fully benefit from its properties.
So how does Liquid CoQ10 specifically support cardiovascular health? CoQ10 plays a crucial role in cellular energy production, particularly in the heart, which requires a continuous supply of energy to pump blood effectively. By boosting energy production, CoQ10 helps support optimal heart function and overall cardiovascular performance.
Furthermore, CoQ10's potent antioxidant properties help reduce oxidative stress and inflammation in the cardiovascular system. Oxidative stress can damage blood vessels and impair their elasticity, leading to conditions such as high blood pressure and atherosclerosis. By neutralizing free radicals and reducing inflammation, CoQ10 supports healthy blood vessels and promotes optimal circulation.
Research has also suggested that CoQ10 may have additional benefits for cardiovascular health, such as improving endothelial function, reducing blood clot formation, and supporting healthy cholesterol levels.
The Scientific Evidence: Unveiling the Benefits of Liquid CoQ10
While the concept of Liquid CoQ10's benefits for cardiovascular health may sound promising, let's explore the scientific evidence that supports these claims. Numerous studies have investigated the impact of CoQ10 supplementation on various aspects of cardiovascular health, providing valuable insights into its potential benefits.
One area of focus has been heart failure, a condition characterized by the heart's inability to pump blood effectively. Research suggests that CoQ10 supplementation can improve heart function, reduce symptoms, and enhance the overall quality of life for individuals with heart failure. It has been shown to increase the heart's pumping capacity, decrease hospitalizations, and improve exercise tolerance.
CoQ10's antioxidant properties also play a crucial role in protecting the cardiovascular system. Studies have indicated that it helps reduce oxidative stress and inflammation, preventing damage to blood vessels and reducing the risk of cardiovascular diseases such as atherosclerosis and hypertension.
Additionally, CoQ10 may have a positive impact on blood pressure. Research suggests that supplementation with CoQ10 can help lower systolic and diastolic blood pressure, potentially reducing the risk of developing hypertension or aiding in its management.
Incorporating Liquid CoQ10 into Your Heart-Healthy Lifestyle
Now that we understand the potential benefits of Liquid CoQ10 for cardiovascular health, let's discuss how you can incorporate it into your daily routine to support your heart and overall well-being.
First and foremost, it's important to consult with your healthcare provider before starting any new supplement regimen. They can provide personalized guidance and ensure that Liquid CoQ10 is suitable for your specific health needs.
When it comes to dosage, follow the recommended guidelines provided by the manufacturer or as advised by your healthcare professional. Liquid CoQ10 typically comes with a convenient dropper for easy and precise measurement. Simply add the recommended amount to a beverage of your choice or take it directly for a quick and effective boost.
To maximize the benefits of Liquid CoQ10, it's essential to maintain a heart-healthy lifestyle. This includes eating a balanced diet rich in fruits, vegetables, whole grains, and lean proteins. Regular exercise, stress management techniques, and maintaining a healthy weight are also vital for cardiovascular health.
Potential Side Effects and Precautions
While Liquid CoQ10 is generally considered safe for most individuals, it's essential to be aware of potential side effects and take necessary precautions.
Firstly, mild gastrointestinal symptoms such as nausea, diarrhea, or stomach upset may occur in some individuals. If you experience any of these symptoms, try taking the supplement with food or adjusting the dosage. If the symptoms persist or worsen, it's advisable to consult your healthcare provider.
It's worth noting that CoQ10 may interact with certain medications, such as blood thinners (e.g., warfarin) and blood pressure medications (e.g., beta-blockers). If you're taking any prescription medications, it's crucial to inform your healthcare provider about your intention to start CoQ10 supplementation.
Pregnant and breastfeeding women should also exercise caution and consult with their healthcare provider before taking Liquid CoQ10 to ensure its safety for themselves and their baby.
Choosing a High-Quality Liquid CoQ10 Supplement
With numerous options available in the market, selecting a high-quality Liquid CoQ10 supplement is essential to ensure its effectiveness and safety. Here are a few factors to consider when choosing a supplement:
Quality and Purity: Look for a reputable brand that follows strict manufacturing practices and uses high-quality ingredients. Third-party testing for purity and potency can provide additional assurance.

Bioavailability: Opt for a liquid form of CoQ10, as it offers better absorption and bioavailability compared to capsules or tablets. This ensures that your body can effectively utilize the supplement.

Dosage and Concentration: Check the dosage per serving and the concentration of CoQ10 in the product. It's important to select a supplement that provides an adequate amount of CoQ10 per serving to support your desired health goals.

Additional Ingredients: Consider supplements that include other beneficial ingredients, such as antioxidants or synergistic nutrients, to enhance the overall health benefits.
Incorporating Liquid CoQ10 into Your Routine and Applying the Knowledge
Now that you have learned about the remarkable benefits of Liquid CoQ10 for cardiovascular health, it's time to put that knowledge into action and incorporate this powerful supplement into your daily routine. Here are some practical tips to help you get started:
Determine the Right Dosage: Consult with your healthcare provider to determine the appropriate dosage of Liquid CoQ10 based on your individual needs and health goals. They can consider factors such as age, overall health, and any existing medical conditions to provide personalized guidance.

Consistency is Key: To experience the full benefits of Liquid CoQ10, it's important to take it consistently as recommended. Incorporate it into your daily routine, whether it's in the morning, with a meal, or at a specific time that works best for you.

Track Your Progress: Keep a journal or track your progress to monitor any changes or improvements you may experience after starting Liquid CoQ10 supplementation. This can help you assess its effectiveness and make any necessary adjustments in consultation with your healthcare provider.

Combine with a Healthy Lifestyle: Remember that Liquid CoQ10 is a supplement, not a magic solution. It works best when combined with a healthy lifestyle, including a balanced diet, regular exercise, stress management, and adequate sleep. By adopting a holistic approach to your well-being, you can maximize the benefits of Liquid CoQ10 for your heart health.
Choose MBS Biotechnology Pure Liquid CoQ10 for Optimal Heart Health
When it comes to selecting the best Liquid CoQ10 supplement, MBS Biotechnology stands out as a reliable and trusted choice. Here's why:
Uncompromised Quality: MBS Biotechnology is committed to delivering premium quality supplements. Their Liquid CoQ10 is produced using state-of-the-art manufacturing practices and undergoes rigorous testing to ensure purity, potency, and effectiveness.

Superior Absorption: MBS Biotechnology's Liquid CoQ10 is formulated in a liquid form, which offers enhanced bioavailability and absorption compared to traditional capsules or tablets. This means that your body can absorb and utilize the CoQ10 more effectively, maximizing its benefits.

Trusted Reputation: MBS Biotechnology has built a strong reputation in the industry for providing high-quality supplements that are backed by scientific research and customer satisfaction. Their commitment to excellence and customer care sets them apart as a trustworthy brand.

Comprehensive Support: MBS Biotechnology provides comprehensive support to their customers, offering educational resources, expert guidance, and exceptional customer service. They are dedicated to helping you achieve optimal heart health and overall well-being.
When it comes to your cardiovascular health, don't settle for anything less than the best. Choose MBS Biotechnology Pure Liquid CoQ10 and experience the remarkable benefits it can offer for your heart, energy levels, and overall vitality.
Remember, it's always recommended to consult with your healthcare provider before starting any new supplement, including Liquid CoQ10, to ensure it aligns with your specific health needs and any existing medical conditions.
Start your journey to a healthier heart today with MBS Biotechnology Pure Liquid CoQ10. Your heart will thank you for it!