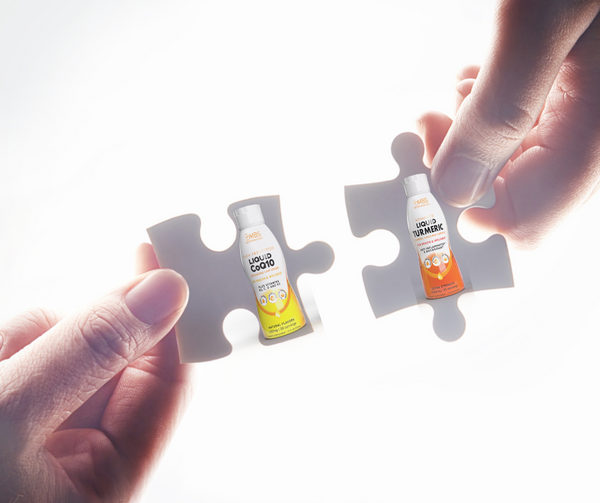 Exploring the Synergy of CoQ10 and Turmeric for Optimal Health
Discover the powerful combination of CoQ10 and turmeric and how their synergistic effects can improve your overall health and well-being.
Coenzyme Q10 (CoQ10) and turmeric are two natural compounds known for their health-promoting properties. Individually, they provide numerous health benefits, but when combined, they create a powerful synergy that can enhance their positive effects on the human body. In this article, we will explore the benefits of CoQ10 and turmeric, their synergistic relationship, and how this combination can contribute to optimal health.
Understanding the Benefits of CoQ10
What is CoQ10?
Coenzyme Q10, also known as ubiquinone, is a naturally occurring antioxidant found in the mitochondria of our cells. It plays a crucial role in energy production, supports cardiovascular health, and protects cells from oxidative damage caused by free radicals.
Health Benefits of CoQ10
Improves energy production: CoQ10 is essential for producing adenosine triphosphate (ATP), the primary energy source for cells.
Supports cardiovascular health: Studies suggest that CoQ10 may improve heart function, lower blood pressure, and reduce the risk of heart-related complications.
Reduces oxidative stress: As an antioxidant, CoQ10 neutralizes harmful free radicals, reducing oxidative stress and cellular damage.
Discovering the Power of Turmeric
What is Turmeric?
Turmeric is a vibrant yellow-orange spice derived from the root of the Curcuma longa plant. It has been used for centuries in traditional medicine, particularly in Ayurveda, for its potent anti-inflammatory and antioxidant properties. The primary active compound in turmeric is curcumin, which is responsible for its health benefits.
Health Benefits of Turmeric
Fights inflammation: Curcumin is a powerful anti-inflammatory agent that can help reduce chronic inflammation associated with various health conditions.
Supports brain health: Curcumin may improve brain function and lower the risk of neurodegenerative diseases, such as Alzheimer's.
Promotes heart health: Turmeric has been shown to improve endothelial function and reduce the risk of heart disease.
Synergy Between CoQ10 and Turmeric
When CoQ10 and turmeric are combined, their individual health benefits can be enhanced due to their synergistic relationship. Here's how they work together:
Increased bioavailability: CoQ10 is a fat-soluble compound, which means it is best absorbed when consumed with fats. Curcumin in turmeric is also fat-soluble, making it an ideal companion to CoQ10. Consuming these compounds together can enhance their absorption and bioavailability, increasing their effectiveness.
Enhanced antioxidant protection: Both CoQ10 and curcumin are potent antioxidants. When combined, they can provide more comprehensive protection against oxidative stress and free radical damage.
Boosted anti-inflammatory effects: The anti-inflammatory properties of curcumin can complement the cardiovascular benefits of CoQ10, further supporting heart health and reducing inflammation throughout the body.
Incorporating CoQ10 and Turmeric into Your Lifestyle
To experience the synergistic benefits of CoQ10 and turmeric, consider incorporating them into your daily routine:
Supplements: Look for high-quality supplements that combine CoQ10 and turmeric or curcumin. Choose products with added bioavailability-enhancing ingredients, such as black pepper extract (piperine) or phospholipids.
Diet

: Include turmeric in 

your meals by adding it to curries, soups, smoothies, or teas. Pair turmeric with healthy fats, such as olive oil or coconut oil, to enhance the absorption of curcumin. For CoQ10, consume foods rich in this nutrient, including organ meats, fatty fish, and whole grains.

Topical applications: Some skincare products contain CoQ10 and turmeric to improve skin health and reduce signs of aging. Look for creams, serums, or masks that combine these powerful ingredients for topical use.

Precautions and Consultations

While CoQ10 and turmeric are generally considered safe for most people, there are some precautions to consider:

Interactions with medications: Both CoQ10 and turmeric may interact with certain medications, such as blood thinners, blood pressure medications, and diabetes medications. If you are taking any of these medications, consult with your healthcare provider before adding CoQ10 and turmeric to your regimen.
Pregnancy and breastfeeding: The safety of CoQ10 and turmeric supplements during pregnancy and breastfeeding is not well-established. It is best to consult with your healthcare provider before using these supplements if you are pregnant or nursing.
Allergies: If you are allergic to turmeric or any other ingredients in CoQ10 and turmeric supplements, avoid using them.

Conclusion

The combination of CoQ10 and turmeric provides a powerful synergy that can enhance their individual health benefits, promoting optimal well-being. By understanding the benefits of these compounds and incorporating them into your lifestyle, you can harness their potential to support energy production, reduce inflammation, protect against oxidative stress, and promote overall health. Always consult with your healthcare provider before adding new supplements to your routine, especially if you are taking medications or have existing health concerns.