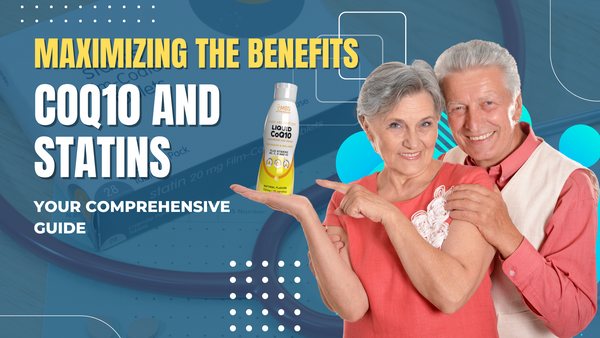 Maximizing the Benefits: CoQ10 and Statins - Your Comprehensive Guide
If you're taking statins to manage your cholesterol levels, you may have heard about the potential benefits of CoQ10 supplementation. In this comprehensive guide, we'll explore the best CoQ10 supplements to take with statins, address the issue of fatigue, and provide insights on the optimal timing for taking CoQ10. Additionally, we'll delve into the relationship between CoQ10 and statins, the impact on cholesterol levels, and the specific interaction with atorvastatin. Let's unlock the secrets to enhance your health while on statin therapy.
Overcoming Statin-Related Fatigue with CoQ10:
Fatigue is a frequent complaint among individuals undergoing statin therapy. Fortunately, CoQ10 supplementation offers a potential solution to overcome this side effect and restore energy levels. Coenzyme Q10, or CoQ10, plays a crucial role in cellular energy production, making it a valuable ally in combating statin-related fatigue.

When taking statins, the body's natural levels of CoQ10 can become depleted, leading to a decline in energy levels and increased fatigue. By supplementing with CoQ10, you can replenish these levels and support your cellular energy metabolism, effectively countering the fatigue associated with statin use.

CoQ10 acts as a coenzyme in the production of adenosine triphosphate (ATP), which is the primary energy source for cells. By boosting CoQ10 levels through supplementation, you provide your cells with the necessary fuel to maintain optimal energy production. This can result in increased vitality, reduced fatigue, and the ability to engage in daily activities without feeling drained or exhausted.

CoQ10 supplementation not only helps restore energy levels but also supports overall cardiovascular health. Statins work by inhibiting an enzyme involved in both cholesterol and CoQ10 synthesis, which can further contribute to CoQ10 depletion. By incorporating CoQ10 into your daily routine, you can address this deficiency and promote heart health, in addition to combating fatigue.
Optimizing the Timing: When to Take CoQ10 with Statins:
Timing is everything when it comes to achieving optimal results, and the same holds true for CoQ10 supplementation alongside your statin medication. By understanding the ideal timing for taking CoQ10, you can unlock its full potential, ensuring maximum absorption and synergistic effects.

Imagine a symphony where each instrument plays in perfect harmony. The timing of their notes can make or break the performance. Similarly, the timing of CoQ10 supplementation can greatly influence its effectiveness in conjunction with statins. So, let's dive into the secrets of perfect timing and uncover the best practices for reaping the benefits of this remarkable nutrient.

To start off on the right foot, it's essential to align your CoQ10 intake with the schedule of your statin medication. CoQ10 is a versatile nutrient that supports various functions in the body, including energy production and antioxidant defense. By strategically timing your CoQ10 intake, you can optimize its absorption and ensure it works hand in hand with your statin therapy.

One strategy that has shown promise is taking CoQ10 alongside your statin medication. This synchronized approach allows the two to work synergistically, enhancing each other's effects. By taking them together, you create a powerhouse duo, supporting your cardiovascular health and promoting overall well-being.

Additionally, consider the bioavailability of the CoQ10 supplement you choose. Some formulations offer enhanced absorption, allowing the nutrient to be readily available for your body to utilize. By selecting a high-quality CoQ10 product known for its bioavailability, you can further enhance the timing strategy for optimal results.
Understanding the Coenzyme Q10 and Statins Connection:
Welcome to the fascinating world of the Coenzyme Q10 (CoQ10) and statins connection. In this journey, we will unravel the intricate relationship between these two and shed light on how statins can affect CoQ10 levels in the body, potentially giving rise to side effects. But fear not, for we will also emphasize the importance of replenishing this vital nutrient to maintain optimal health.
Statins, the popular medications prescribed to manage cholesterol levels, have proven to be effective in reducing the risk of heart disease. However, what many people don't realize is that statins can inadvertently impact the levels of CoQ10 in the body. CoQ10 plays a crucial role in energy production within our cells and acts as a powerful antioxidant, safeguarding our bodies from harmful free radicals.
The use of statins can disrupt the natural balance of CoQ10, potentially leading to side effects such as fatigue, muscle pain, and weakness. This is where the significance of replenishing CoQ10 comes into play. By supplementing with high-quality CoQ10, you can restore the depleted levels, helping to alleviate these side effects and promote overall well-being. It's like replenishing the fuel in your car to ensure smooth and efficient performance.
CoQ10 and Cholesterol: Unraveling the Effects:
Discover the impact of CoQ10 on cholesterol levels. We'll examine the research surrounding CoQ10 supplementation and its potential to support healthy cholesterol balance in conjunction with statin therapy.
Cholesterol, the not-so-friendly term that often raises eyebrows, has a companion in crime – CoQ10! This superhero nutrient has been catching the attention of researchers who believe it might hold the key to supporting healthy cholesterol levels. By delving into the world of CoQ10 supplementation, we embark on an exciting journey towards better heart health and well-being.

Picture this: you and your trusty statin therapy fighting the good fight against cholesterol. But what if there was a secret weapon that could enhance your efforts? Enter CoQ10, a potent ally with the potential to turn the tide in your favor. Scientific studies have shown that CoQ10 supplementation may help maintain a healthy cholesterol balance by supporting various mechanisms in the body. From antioxidant effects to energy production support, CoQ10 flexes its mighty powers to promote cardiovascular wellness.

So, let's break it down. CoQ10 supplementation has been found to have a positive impact on cholesterol levels, especially when combined with statin therapy. It works behind the scenes, like a well-choreographed dance, supporting the body's natural mechanisms involved in cholesterol metabolism. By promoting healthy cellular energy production, CoQ10 assists in maintaining the delicate balance of cholesterol in your system.
 Exploring CoQ10 Interaction with Atorvastatin:
Atorvastatin is one of the most commonly prescribed statin medications. We'll specifically delve into the interaction between CoQ10 and atorvastatin, shedding light on potential benefits, precautions, and considerations for users of this medication.
 Atorvastatin plays a crucial role in managing cholesterol levels and reducing the risk of heart disease. However, it's important to understand how it may impact CoQ10 levels in the body and how supplementing with CoQ10 can offer potential benefits and considerations for individuals taking atorvastatin.

Atorvastatin works by inhibiting an enzyme involved in cholesterol production, which effectively lowers cholesterol levels in the bloodstream. However, this mechanism of action can inadvertently deplete the body's CoQ10 levels. CoQ10 is a vital nutrient involved in energy production and acts as a potent antioxidant, protecting our cells from damage.

By exploring the interaction between CoQ10 and atorvastatin, we gain insights into potential benefits and precautions. Supplementing with CoQ10 alongside atorvastatin may help replenish the depleted levels, potentially reducing the risk of statin-induced side effects such as muscle pain and weakness.
Best CoQ10 to Take with Statins:
When it comes to choosing the best CoQ10 supplement to take alongside statin therapy, it's important to prioritize quality, potency, and bioavailability. One standout brand that meets these criteria is MBS Biotechnology and their pure liquid CoQ10.

MBS Biotechnology is renowned for its commitment to excellence and producing high-quality supplements. Their pure liquid CoQ10 stands out as an exceptional choice for individuals seeking to support their heart health while taking statins.

What sets MBS Biotechnology's pure liquid CoQ10 apart is its superior quality and purity. The liquid formulation allows for enhanced absorption and bioavailability compared to traditional capsule or tablet forms. This means that your body can more effectively absorb and utilize the CoQ10, maximizing its potential benefits.

MBS Biotechnology's pure liquid CoQ10 is also known for its potency. With each serving, you can rest assured that you're getting a highly concentrated dose of CoQ10 to support your cardiovascular system. This potent formula ensures that you're receiving the optimal amount of CoQ10 necessary to replenish depleted levels caused by statin therapy.

Moreover, MBS Biotechnology prioritizes rigorous quality control measures and uses premium ingredients in their formulations. Their commitment to quality is reflected in the purity and effectiveness of their CoQ10 supplement. By choosing MBS Biotechnology's pure liquid CoQ10, you can have confidence in the product's integrity and trust that you're investing in a supplement that truly delivers results.

Remember, it's always advisable to consult with your healthcare professional before starting any new supplement regimen, including CoQ10 supplementation. They can provide personalized guidance based on your specific health needs and help you determine the ideal dosage and timing of supplementation. With MBS Biotechnology's pure liquid CoQ10 as your choice, you can confidently support your heart health and overall well-being.
Conclusion:
Incorporating CoQ10 supplementation alongside statin therapy can offer numerous benefits for your heart health and overall well-being. By selecting the right CoQ10 supplement, addressing fatigue, optimizing the timing, understanding the connection with statins, and exploring the interaction with atorvastatin, you can maximize the positive impact of this combination. Consult with your healthcare provider for personalized advice, and embark on a journey toward enhanced cardiovascular health with the power of CoQ10.
Remember, it's essential to prioritize your health and consult with a healthcare professional before making any changes to your medication or supplement regimen.